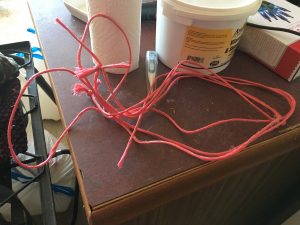 Let me tell you the story of my morning. It started off innocuously enough, coffee in bed with the farmkid and his kitten and my dog who burst in when farmkid didn't close the door properly.
Come 9am, he'd decided to go off to Nana's, and I headed out to feed the little cows.
I went to the kitchen, poured the milk, and put on my jacket. I stuffed my hands in my pockets, and discovered a syringe covered in Red Cell, which I threw in the sink for washing, half a dozen tissues, a knife and a bundle of hay twine  (the good orange stuff, not the crappy green stuff).
I put the tissues in the trash, the knife back in my pocket, and the string on the countertop. Then I picked up the milk and out I went.
Fast forward: cows fed, and I decide to the let the two oldest out for some fresh air. I check the gate between the stalls and the middle part of the barn to make sure it's secure, and find that the chain has come unclipped. And the clip is rusted shut. No worries, I'll just tie it with the hay twine I have in my pocket. Ohhhhhhh wait. Darn. No string. I tie the chain in such a way that I hope it won't come undone, and head on out.
On my way back to the front farm, I meet all my Nigerian Dwarf does coming up from the barn. All but one. As I come through the gate, I see her in the neighbor pasture, laying down against the fence, and she looks guilty. I've lived with this goat for a long while, and we are well acquainted. I know the second I see her that she's been caught in the act. Firstly, never mind the 90 acres she has at her disposal; oh no, she wants to be on the neighbor property. Just because.
She doesn't get up as I approach her, and when I get closer I see why. She won't meet my eyes. Not only has she taken herself on walkabout, she's gone into labor and delivered a baby while she's out there. I've no idea how she got through the fence, and I've no idea how I'm going to get her back.
I climb the fence, speaking sweetly to her even though I don't want to, because I know she's not above jumping up and taking off and then I'll have to chase her. I don't want to do that because my neighbor keeps some insanely large cows in the pasture and the last thing I want to do is catch their attention.
First, I try to lift her over. No go. She weighs like 75lbs and the fence is four and a half feet high with barbed wire on top. I'm afraid of dropping her. The baby is shivering, and Karat is getting agitated. I lift the baby over, to encourage her, and try to lift the bottom of the fence. I finally find an area where it's loose, break the ties from the t-post, and urge her to go under. She's a proficient fence crawler, I've seen her do it. She can jam her bulk through places I would have though physiologically impossible. She refuses. She's insanely strong and it's hard to make her do anything she doesn't want to do, so I realize that we're going to have to do this the ugly way.
I grab a front leg and a back leg and put her on the ground like I'd roll a sheep. She hollers, baby cries, she kicks me in the shoulder. The LGD comes running to see what all the cussing is about. Not for the first time, I am grateful there are no close neighbors.
Lifting the fence with my foot, I stuff her head and shoulders underneath, and then give her butt a good shove. It's undignified, but it works. She's on the other side, and she's tending to her baby. Now to fix the fence I just broke, except guess what? NO STRING.
I have to get mama and baby back to the barn to warm up and have some food, so I leave the fence and hope that none of the others find the weak spot while I'm gone. I pick up the baby and go to take Karat's collar – which I then remember she broke the week before and I haven't replaced it. Oh well, I can always fashion the twine in my pocket into a slip lead. Or not.
Half way back to the barn with me urging Karat along with a tug on her neck fur now and again, the LGD comes back through, and I snag her collar to use on the goat. We make our way up to the house, and frankly, Karat seems relieved to be home.
I'm simply relieved that she managed to birth her baby without a problem, and has it up and eating and doing well. Extra points for being an excellent mama. But here's the moral of the story: if you are a farmer, your life is held together with hay twine. NEVER take it out of your pocket. The universe will see, and it will laugh.